s
ea
s
o
n
s 29 Bank Street Stamford CT 06901
203.324.2583 seasonsgt12@gmail.com Fax 203.921.1987 (call when emailing or faxing please)
We can deliver to you or you can pick up.
Seasons is open for Delivery (Ubereats & Grub Hub) or pick up food.
Inside and outside(weather permitting) Dining available.
Holiday Menu below our Daily Specials
Monday – Friday 8:00-4, Saturday 8:30-2:30 Brunch, Closed Sunday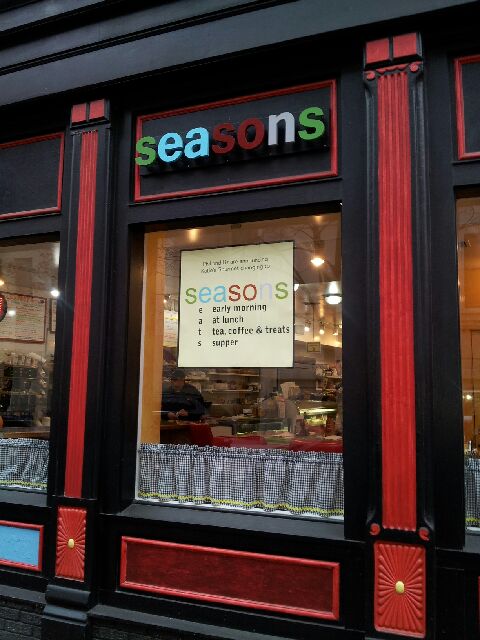 Hi, and thank you for your interest in our restaurant, seasons eats, (formerly Katie's Gourmet).
Four reasons for naming her seasons...

1) Our menu will reflect the dining desires of our customers as the seasons change.
2) We use the freshest foods and ingredients available throughout the seasons.
3) Phil, the chef, is a master at seasonings in his sauces, soups, dressings and suppers.
4) We've been around for 100 seasons (25 years) and counting.
Seasons eats and caterer services Stamford CT and surrounding towns. You are probably in front of your computer or phone right now contemplating what to eat today or what to enjoy in the future.
We are celebrating our 26th. year here! Check for Daily Specials!
Thank You to all our customers for your generous support.
Seasons eats offers hot breakfasts starting at 8:00

AM

to 4:00PM
New Hours!
Monday – Friday 8:00-4, Saturday 8:30-2:30 Brunch, Closed Sunday
Egg sandwiches, breakfast burritos, French toast, omelets and more, such as great fresh brewed coffees served all day. Lunch is served from 11:00AM including: homemade soups, chilies, unique, healthy and interesting sandwich combinations and the freshest salads. Supper entrees are served until 4 or 5:00 to pick-up after a hard day's work. Our Hours maybe subject to change.
Face Masks are at your discretion.
In addition to our extensive menu and catering options, the chef offers Daily Specials which you can check out right now, or sign up to receive our daily morning e- mails. Seasons has seating inside or outside (seasonal), and is open Monday–Saturday. You can swing by and pick up or we will bring it to your car and delivery services too. Seasons is located in downtown Stamford, off exit 7 or 8 (north bound) or exit 7 (south bound) on I- 95.
29 Bank Street is located between Atlantic Street and the bottom of Summer Street. The outside colors of our deli are black, bright red, and we overlook the Old Town Hall Park.
Seasons is enrolled in a cash discount program. The prices listed are Cash Prices.
Credit card sales will have a 3.5% amount added to the total for our processor.
We look forward to seeing you or give us a call to help with your questions and dining needs. Enjoy the rest of the website!
Thank You !
Phil and Liz Costas (owners)
Please call for NEW or Holiday HOURS