Chefís Corner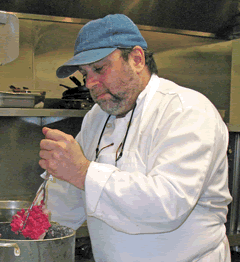 I grew up working in my parentsí Greenwich restaurant called Dorothyís Place, which was a popular luncheonette for 30 years. Creating a menu is as exciting as it is complex. For the past 35 years I have written menus for Dorothyís Place, Willow Street in Port Chester (3 Stars, Melanie Barnard), Five Mile River Grill in Rowayton, Old Rialto in Norwalk, (Very good, N.Y. Times), Bella Luna in Greenwich (Excellent, N.Y. Times), Kathleenís in Stamford (Very good, N.Y. Times) and most recently, seasons (formally Katieís Gourmet), in Stamford. Iíve written over 70 menus representing a wide variety of food categories including Home Style Cooking, Contemporary American, Italian, Pacific Rim, Seafood, Southwestern and, returning to my roots of cooking, Comfort Foods.

When creating a menu, I start off with simple combinations of the highest quality ingredients, and with the restaurantís theme and the desires of my customers as my priorities. In the end, I know that it is the customer who determines what is popular or well received.

Season's menu is always evolving, with specials, new food products, new preparations, recipes and food facts. I want to share with you these new ideas and also the traditional elements of cooking, so letís begin! We welcome your e-mails with questions or suggestions that you may have regarding seasons.



Seasonsís is offering our Daily Specials. in addition to our menu; e.g. Combos, soups, Ĺ salads, Ĺ sandwiches, side dishes, etc. We are responding to requests from you for lo-fat or diet specials such as the spinach salad and lo-fat chicken salad. Our regular menu also offers healthy options.